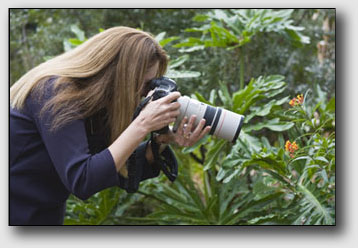 photo: Bill Franklin
Photo How-To
Kathy Adams Clark started teaching others how to take photos back in 1995. Class after class, person after person, Kathy developed a way of teaching photography that's simple and easy to understand. Students give her rave reviews.
Track Kathy's professional life at KAC Productions.
Read her blog postings at Photographing with Kathy Adams Clark and start taking better photos. Digital SLR to point-and-shoot camera to cell camera the principles are always the same. A little information can go a long way!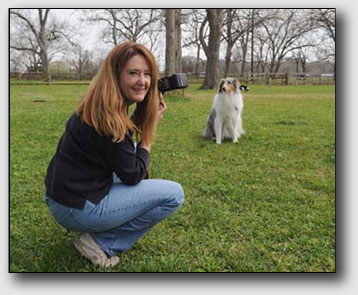 photo: Susan Papa
Topics:
How to Learn Photoshop

Selecting the right camera

Buying a tripod

More advanced tripods

Sensor cleaning

HDR or High Dynamic Range

Buying a Camera Bag





---
Sharpening and Detail Extraction
Is there a continuous light I can use for video or macro photography?
I love macro photography but don't own a macro lens. Is there an alternative?
Here are some travel photography tips.
How do I learn Photoshop? I'm overwhelmed!
The basic operations in Photoshop are pretty easy to learn. The key is starting with Bridge and learning how Bridge can improve your workflow. Bridge is a part of Photoshop and we process photos in Adobe Camera Raw. That's another piece of software in the Photoshop package.
I don't work on one photo at a time. I have way to many photos and shoot too much to work on one photo here and another there. I have to get the images processed in a hurry. That's why I use Bridge and Adobe Raw Processor.
I've created a series of video tutorials to teach you how to use Bridge and Adobe Camera Raw in Photoshop. Watch the videos. Then if you need more instruction join me for a class at Leisure Learning.
Which digital SLR camera is right for me?
I recommend Nikon or Canon camera systems. Any of their cameras are great. Buy the one that feels good in your hands, fits your budget, and has controls that make sense to you.
You can start with the lens that comes with the camera. Just be sure you get a Nikon or Canon lens. I recommend something in the 18-100mm range. That's a good range for landscapes, family gatherings, and general photography. Buy a lens in the 70-300mm range for wildlife or sports. Many camera stores and on-line vendors offer deals on the camera body and lens combination. For best results, get a Nikon lens for your Nikon camera or Canon lens for your Canon camera.
Which tripod is right for me?
If you're just starting out, take a look at the Manfrotto tripods and ball heads distributed by Bogen. The 468MGRC5 ballhead a nice, moderately long plate that will fit on the bottom of your camera.
If you have a lens with a tripod collar, order another plate for that lens and permanently attach the plate to the lens. The 468MGRC3 ballhead has a longer plate. That would be nice if you had a long lens but the plate on the 5 seems to be long enough. I'd get another ball head if I had a lens long enough to warrant the longer plate.
Tripods in order of height and strength are the Manfrotto 190xb, the 055xprob and the 055xwmb. A tall man would want the 055xwmb because it would extend to his height. These are nice, strong products that will serve the average photographer for 15 or 20 years.
An alternative is the Gitzo GT2942 Basalt tripod legs ($374.95) extends to 66 inches. The GT-2330 is aluminum so it's heavier and it extends to 64 inches but only costs $269.
The Gitzo ballheads are the G-1278M with G-2285MB Quick Release that holds 13 pounds ($246.00). For lighter cameras, the 1178 with the G-2285M Quick Release holds 8.8 pounds ($167.00). That gives you several options to look at.
What about a tripod/ballhead combination for more advanced photographers?
That's a loaded question because advanced photographers need different equipment for different things. Photographers with big lenses who want light-weight carbon fiber tripods should look at Gitzo GT3530 or 3541. Induro also makes some nice carbon fiber tripods, too. I've used the Arca-Swiss B1 now called the Z1 for years. This is the standard for sturdy, big ball heads. The rival is the Kirk Enterprises BH-1 ballhead that is great for heavy lenses and use.
How do I clean my sensor?
I use the Visible Dust sensor cleaner on all my cameras. The self-cleaning sensor is amazing but at times the sensor still needs cleaning.
Use the Giotto Rocket Blaster air blower (one with the 7.5" nozzle) first. That usually gets the dust off the sensor. If that doesn't work, use the Visible Dust brush. Make sure you buy the right brush for your camera's sensor.
It wouldn't hurt to get a new brush when you get a new camera. Your old brush might be dirty from the old camera.
The self-cleaning sensors hold dust off the sensor with technology. There's still dust in the chamber. Blow the chamber out with the Giotto blower periodically to get that dust out of the chamber.
How do I process a HDR image?
How do I buy a camera bag?